As 2018 draws to a close, I realize that we have accomplished so much, but have hardly written about how our students have learned and grown over the summer and the fall. Let me remedy that with a recap of this very eventful year.
Over the summer, we conducted a workshop to prepare our students for the busy Fall ahead – we had agreed to appear in three different programs! It was a big challenge for all the kids and for the teachers too, but it was also a great learning experience. The children learnt songs by different composers and were ready to go when Fall rolled around.
In September, the first program of the season was the Kannada Association function honoring the Dasas. Our school presented three songs and a mangalam. We presented Tamburi Meetidava in Sindhubhairavi, Rama Mantrava in Jonpuri, and Tirupati Venkataramana in a folk tune. We even presented a Kannada mangalam in Suratti! Take a listen – our students did great!
At the end of September was the Telugu Association Annamacharya Day. This year, our own Shanti Raghavan was given an award by the Telugu Association for her contributions to music in the Cleveland area over the last 40 years.
Our students performed two pieces: Govindashrita in Dharmavati, and Muddugare Yeshoda, and did a fantastic job. Shanti and Shruti also played Sriman Narayana on veena/violin.
This year on Annamayya day, two of the Kuchipudi dance teachers put together a dance drama about the compositions of Annamacharya. It was a very nice event, and Shruti was given the opportunity to accompany the dance on the violin.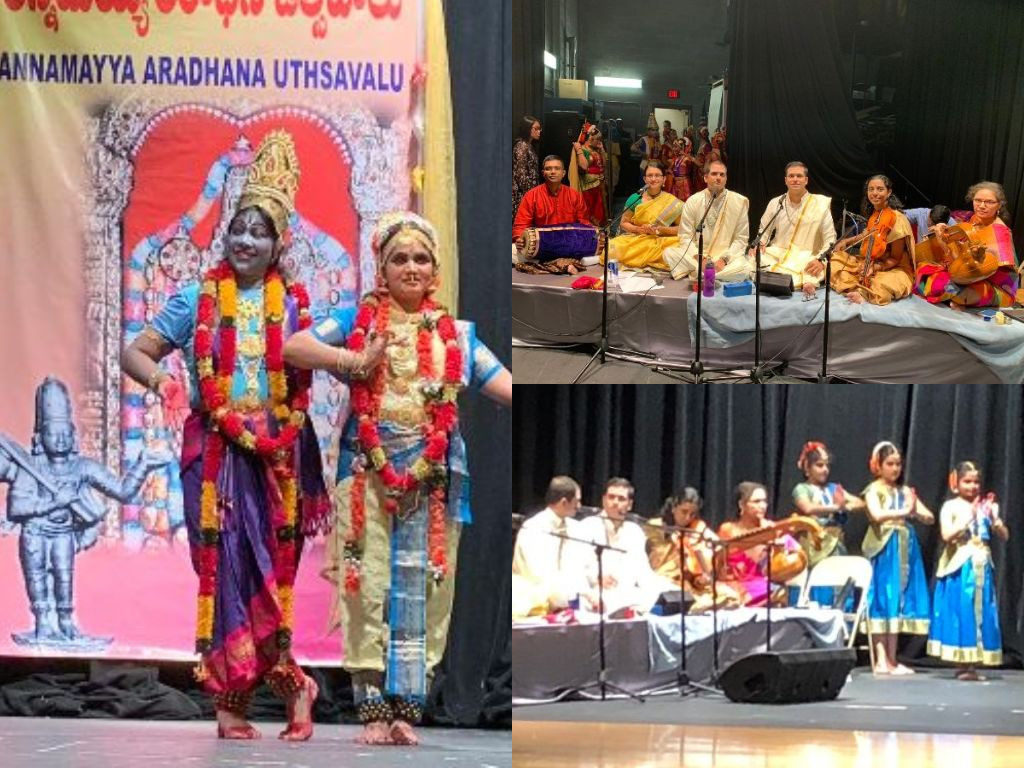 The final performance in the fall season was the annual Composers Day event in early October. This year we were assigned relatively modern composers – two 20th century legends, G.N. Balasubramanian and Lalgudi Jayaraman. We presented three GNB compositions: Unnadiye, Ranjani Niranjani, and Sarsawati Namostute.
For Lalgudi Jayaraman, our violinists presented a varnam in Valachi, and a Tillana in Desh. In addition to being really fantastic compositions, these were also very popular compositions. Our children worked very hard for this performance and put up a great show

Overall this summer and fall has been a great learning experience for our students! They learned a lot of songs by a variety of composers and presented them well everywhere they went. Great work and congratulations to all of them!