The Balaji Temple in Richfield, OH had their first annual All Composers Day, and all of the local music schools were asked to participate.  As we posted earlier, we presented Patnam Subramanya Iyer and Muthuswami Dikshitar.
For Patnam Subramanya Iyer, we presented three items.  First, our senior students performed Valachi Vaachi, the famous Navaragamalika varnam.
Next, Indu and Rohin performed a short rendition of Paridana Michite.  This was followed by the teachers, Shanti and Shruti performing the ever popular Raghuvamsa Sudha on violin and veena.
For Muthuswami Dikshitar, we began with our beginning students singing several of Dikshitar's "Nottu swaram" songs, written with classical Indian lyrics and Western style notes.  They also sang Sri Gananatham Bhajare.

After this group sang we had a smaller group sing Govardana Girisham.

All of our introductions were done by Anusha.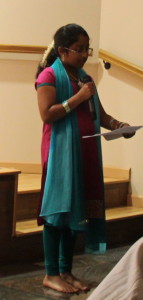 Congratulations to everyone on a job well done!