We have videos today, so you can hear us and our students!
The Venkateswara Temple held its annual Composers Day on October 16, 2016.  Our school was assigned two shining stars among composers – Swati Tirunal and Arunachala Kavi this year. After the school presentations, all of the area teachers did a joint presentation about the five attitudes of devotees.
Here is what we learned about Swati Tirunal:
Swati Tirunal was a king of Mysore, and was so precocious that he was able to take over administration of the state by age 16.  Besides being a ruler, he was also deeply interested in music right from childhood, and was not only a patron of music but a musician himself.  He composed over 400 compositions in both Carnatic and Hindustani style, and encouraged both systems of Indian music.  His compositions were in all the major languages of India. He was a contemporary of the musical Trinity, Thyagaraja, Dikshitar, and Syama Sastri. His palace also was home to many musicians and artistes of the period, including the famous Thanjavur Quartet brothers, Tyagaraja's disciple Kannayya Bhagavathar, and many others.
For our presentation, we demonstrated Deva Deva Kalayamite in Mayamalavagowla, Kripaya Palaya in Charukesi, and the Dhanashri Tillana.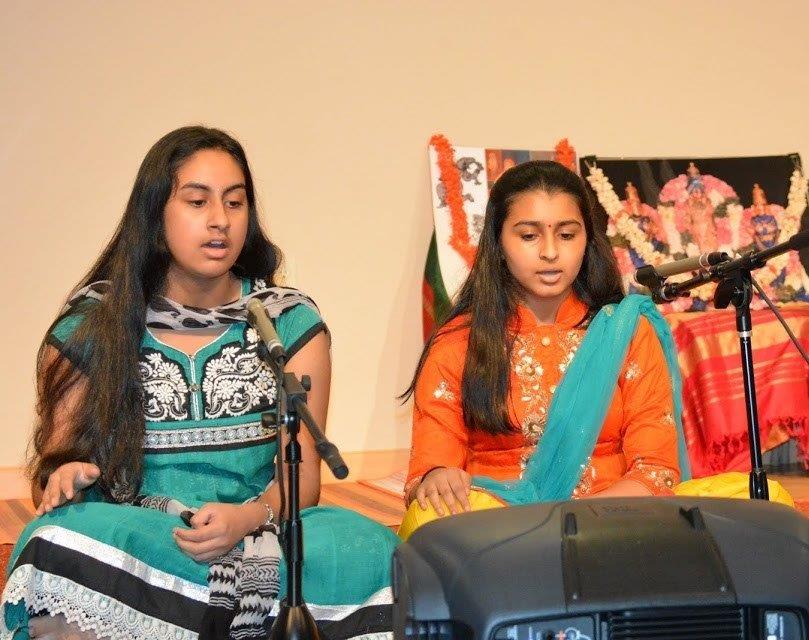 Next we presented Arunachala Kavi.
Arunachala Kavi (1711-1788) is considered one of the Tamil Trinity, along with Muthu Thandavar and Marimuttu Pillai. He was a brilliant student, but rather than pursuing the life of a scholar he chose to open a jeweler's shop and get married, continuing his studies of Sanskrit, Tamil, and associated literature. He was particularly taken with Kamban's Ramayanam and Tiruvalluvar's Tirukkural, which was the foundation of his later works. As time progressed, he met two musicians, Venkataraman Iyer and Kodandaraman Iyer, who discovered his scholarship in the Ramayana and his talent for poetic composition. They encouraged him to compose an opera, which they offered to tune for him. He composed first the Yuddha Kandam which met with great success, after which he composed the full opera, known today as Rama Natakam. This was performed at various temples and various courts across South India. He received great acclaim due to the simple language and proverbs and sayings it contained.
We presented two of his compositions from Rama Natakam: Anda Rama Soundaryam, which describes Rama's beauty, and Yaro Ivar Yaro, which describes Rama's instant regard for Sita when he first saw her.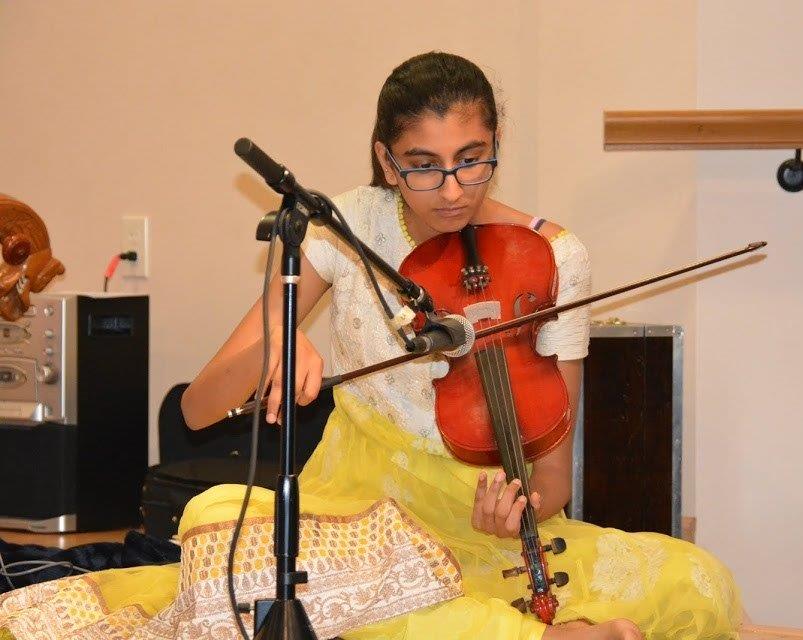 After all the school presentations were over, the teachers did a presentation on the Five Bhavas (which you can read about here.)  We did a medley that illustrated the five bhavas, and each teacher presented a song for one of the bhavas.  Shruti's song was "Odi Barayya" which illustrated Vatsalya bhava.  All told it was a very successful program and we were glad to be a part of it.